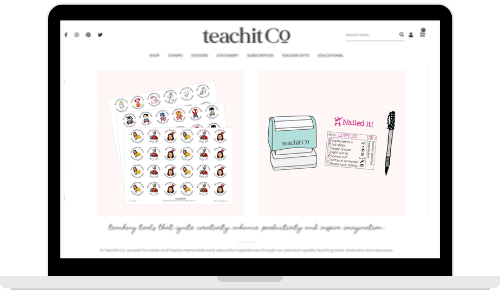 FROM PREMIUM PRE-INKED AND SELF-INKING STAMPS TO PERSONALISED DIGITAL STAMPS AND STICKERS,

IS SUPPORTING TEACHERS TO MAKE REMOTE LEARNING MORE
FUN
AND ENCOURAGING FOR STUDENTS, KEEPING THEM CONNECTED AND ENGAGED.
teaching tools that ignite creativity, enhance productivity and inspire imagination.
At Teachit Co, we exist to create and inspire memorable early education experiences through our premium quality teaching tools, stationery and resources.
Whether it be custom stamps, personalised stickers or sparkling pens, each of our products are underpinned by the below:

education
isn't just about the ABCs
It's not just about ticking boxes and academic achievements.
It's about
Kindness. Empathy. Resilience. Courage.
It's about making the world a better place.

We're all in this
together
Teacher. Parent. Friend
or family member.
If you believe in the power of education,
in our book,
that means you're already
a part of the Teachit Co family.

Cultivate
creativity
and
inspire
imagination
Brighten your every day with
colour-pop teaching tools
and custom stationery.
Designed to uplift you,
your little ones, your fellow teacher
and our community.

All custom products are made in-house from our Sydney Studio.

We're proud to be a family-owned business. Read more about us here.

for orders over $250 Australia-wide. $10 flat-rate shipping within Australia
Put party to paper with our
custom stamps.
Hand-assembled with love, our custom pre-inked stamps are like a pocket-sized pinata for you to enjoy with your little ones.
Spark imagination,
say "well done, you extraordinary little human" or celebrate the "yays" in giant leaps with quality you can feel.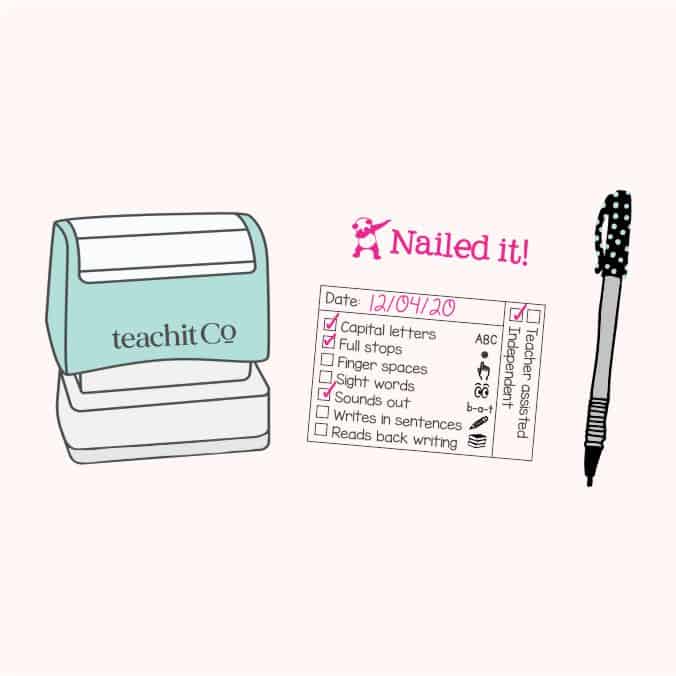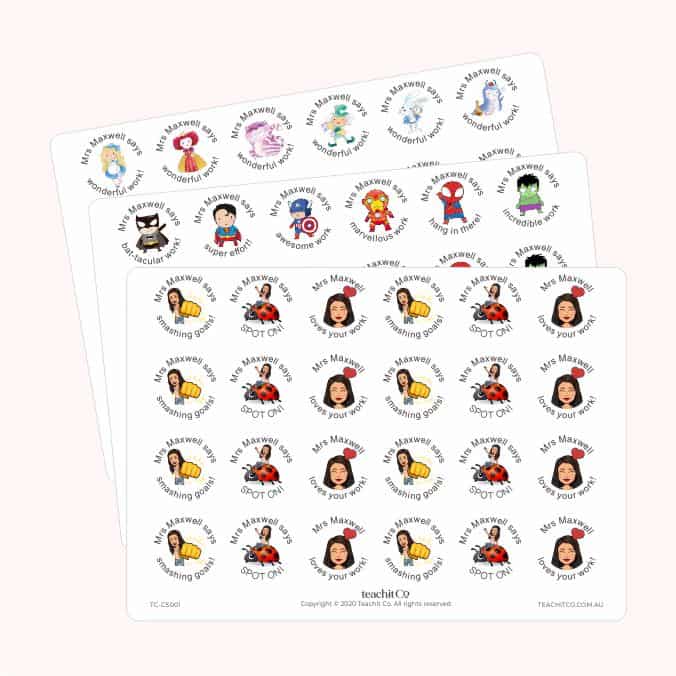 Sparkly. Metallic. Multi-coloured and personalised. Inspire exchanges of joy with your very own custom stickers.
Because is there a better feeling than getting your homework back with an extra special sticker, just for you?
There isn't. It's crystalised joy. Fact.

These stamps and stickers are perfect! The range is gorgeous, and the quality is top notch. It has made such a difference to our online learning from home, a great personal incentive. My daughter loves them. Highly recommended for parents and teachers!

I received my stamps and personalised stickers today and they are perfect! Exactly what I wanted. Thank you for so diligently getting them out before start of term and for your generous donation to the RFS. 
Greatly recommended.

Excellent customer service and quality personalised products.
I'm very happy with my stickers and stamps and will no doubt be ordering more in the future.
Want exchanges of joy from us at Teachit Co? Oh you!
Learn. Grow. And get creative with us. We promise, we'll only be showing up to your inbox with armfuls of handy tips, offers and plenty of goodies.
Sign up to stay in the know!