What is a Fabric Name Stamp?
It is the quickest and easiest way to permanently label your child's clothing, hats, bags and other belongings. This pre-inked stamp uses a special non-toxic ink developed for application on most types of fabric. It's compact and perfect for on-the-go labelling, producing up to 1000 impressions.
How do you achieve a crisp impression?
👕 Place garment to be stamped on a flat and hard surface.
♨ Allow impression to dry for 10 minutes before wearing.
🗒 Test your stamp on a piece of scrap paper before each use to ensure there is no excess ink and close the stamp lid when not is use to avoid stamp drying out.
🧺 Always pre-wash fabric to remove starch, conditioners or glue that may prevent absorption of the fabric ink
✖️ Not suitable for synthetics or satin. Avoid using fabric with special surfaces that will not absorb ink and those with very loose weaves and furry materials.
👚 Black fabric ink works best on light coloured, tightly woven fabrics such as cotton or linen.
👕 White fabric ink is suitable for dark coloured, tightly woven fabrics such as cotton or linen. The white ink is only a semi-permanent ink and therefore may start to fade after a few washes. For longer lasting results it is recommended that items are washed on a cold cycle and once the impression fades you can re-stamp the item.
🩸 Some ink bleeding may be noted on fabrics with bigger weaving, tags or on very thin fabrics (we recommend you either stamp on the seam where it's thicker or use our printed iron-on labels)
And remember…
⏱ We recommend you wait 24 hours before washing stamped items
🌡 The imprint can be washed up to 60°C and the ink will last for up to 50 washes before it starts to fade.
🔥 Avoid exposure to heat and store your stamp in a dry and cool place.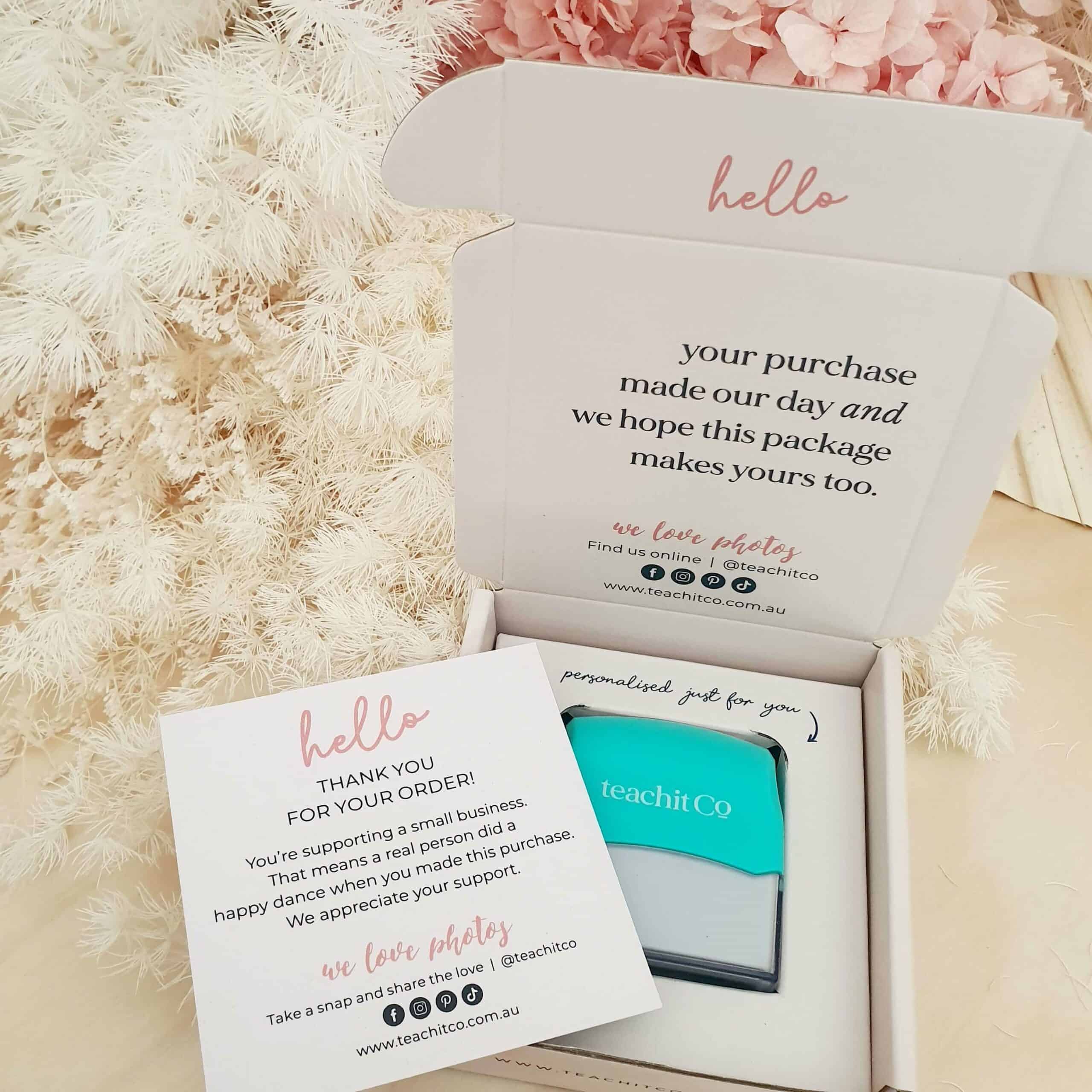 The Fabric Name Stamp is quality tested before it gets packed but will arrive ready for immediate use.
〰️
WARNING!
you may develop a stamp addiction.
😉😂
We love photos so don't forget to take a snap 📸 and share the love on our socials @teachitco.
If you have any questions or need any help, don't hesitate to contact our support team!

and the Teachit Co team x