The teachit co.® fabric name stamp is the quickest and easiest way to label your kid's clothing, hats, bags and other belongings. The pre-inked stamps use a special non-toxic ink developed for application on fabric/textiles and are compact making them perfect for on-the-go labelling, producing up to 1000 impressions.
Personalise the stamps with a name and/or icon and simply press down to stamp onto clothing items and you never have to worry about mix-ups and lost items at day care, school and camp.
To achieve a crisp impression it is important to place garment to be stamped on a flat and hard surface. Allow impression to dry for 15 minutes before use however do not wash until 24 hours after stamping.
Stamp colour:  Pink, Turquoise or Grey
Size:    36mm x 8mm (Suitable for one name only)
Fabric Ink:  Black
This fabric name stamp with black fabric ink is suitable for light coloured, tightly woven fabrics such as cotton/linen. The imprint can be washed up to 60°C and the ink will last for up to 50 washes before it starts to fade. When this occurs you can re-stamp the item.
You will receive a personalised fabric name stamp with black ink ready for immediate use.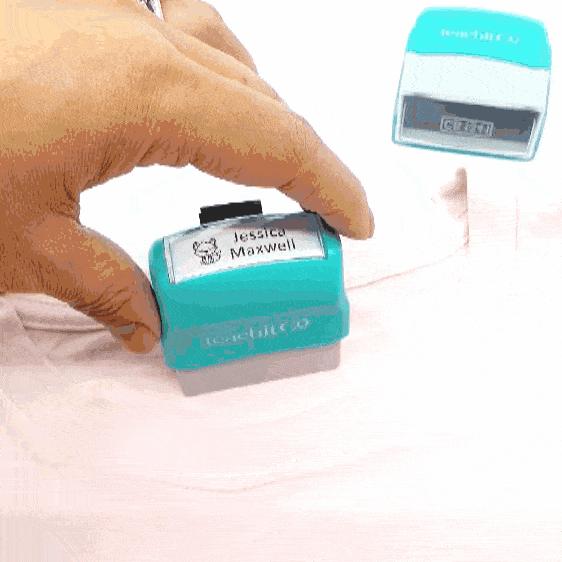 If the stamp impression starts to fade, fabric refill ink can be purchased here.
N.B. The harder you press on the stamp, the more ink the fabric will absorb.
For thin or dark fabrics our durable iron on labels are an ideal solution. Just choose the pack size from the drop down and we will include printed iron-labels in your order. N.B. Label design will be the same as the stamp design.
Label size:    42mm x 10mm
A digital proof can be provided upon request prior to manufacturing the stamp. Please allow 5-7 days for your fabric name stamp to be created (after receiving approval of proof where applicable).
Made in Australia